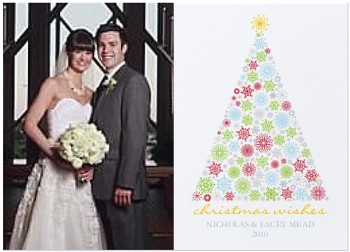 Shimmering Snowflake Tree Christmas Card
nicholas and i just ordered our
christmas cards
! are we ahead of schedule, or what? we ended up getting them from shutterfly. they have such great h
oliday photo cards
and best prices i've seen. what do you think? it took me forever to sort through all of our wedding pictures and choose just one! i was thinking about doing a multi-picture card, but then I decided to go with just one big picture for a bigger impact. this is also a great way for everyone who wasn't able to make it to the wedding to see how handsome my groom looked! :)
oh, and if you get one of these in your mailbox, please act surprised!
now i just need these coordinating
address labels
! since we have a new address (and I have a new last name) we don't have any kind of address labels. now i jut need to get to addressing them all!